Repairing a roof can be an expensive and time consuming job.  It is also one of those things that inevitably happen at the worst possible time.  The roof is often designed to be part of the structural strength of your building.  Of course, it also keeps rain and wind out of your property and allows you to make it comfortable; whether it is your home or a commercial building.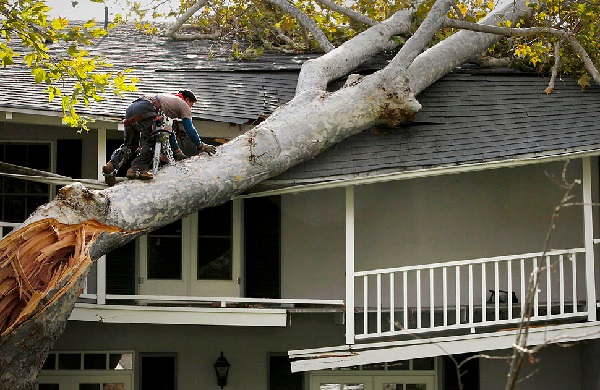 Even if you regularly check your roof for damage and potential weaknesses it is possible you will not see any issue.  This is why it is essential to use a professional firm to check your roof.  King Koating Roofing  can perform a regular check which will provide you with peace of mind. Unfortunately there may still be an issue which will only be noticed when the water makes its way through and inside your home.  The alternative is that your roof is damaged during a storm and you need to make a decision as to whether repair it immediately or not.
There are several options regarding an emergency repair:
Do it Yourself Immediately
This can be a dangerous option if you are attempting to fix your roof whilst the storm rages around you.  If you are dealing with a flat roof then you may be able to get onto it and cover the damaged area with some tarpaulin.  This is even an option for a pitched roof.  However, the biggest issue in these scenarios is making sure the tarpaulin will stay in place as the wind hits.  The safest way of doing this is to place wood over the edges of the tarpaulin and screw or even nail this to the building.  However, this will risk damaging the roof in another place.  If you are intending to replace the whole roof this will not be an issue but if you only wanted to repair the one section you may be creating extra work for yourself.
Contact Your Local Roofing Professional
The safer option is to contact your local emergency roof repair specialist.  They will be able to provide a fast response and can advise you regarding whether a repair is the best idea or if you should be considering replacing the roof.  Unfortunately a local emergency roof repair firm will probably be inundated with work during and just after bad weather.  This means you may not be able to get the instant response you would like.  You can choose to look at what other firms are offering to see if someone else can provide you with an emergency roof repair.  But, you will still need to verify their reputation to ensure you are using a firm which knows what it is doing.  There are people who will happily take advantage of you and the situation.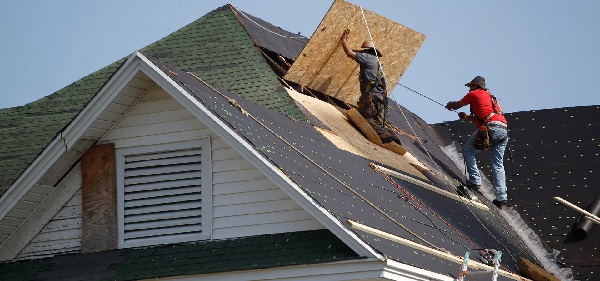 If you have a flat roof that needs an emergency roof repair it is possible to add a sealing compound which is designed to work in wet weather.  It will not affect the professional repair of the roof later and may just save you some costly interior redecorating.
Whichever option you choose it is essential to be careful when working on a roof in inclement weather; one false move can have disastrous consequences.