If you're considering having a new fence installed or are thinking about fitting one yourself, you're likely to encounter a whole range of trade specific terms that you may not be familiar with. Knowing the meaning of these words and phrases can be the key to making a successful decision. This guide from fencing Peterborough expertPaul Chambers offers a quick way to get your head around the most important of these terms.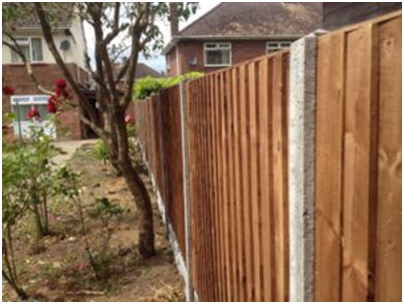 Fence Posts
 Although it may seem like a simple object there is a wide range of different fence posts available both wooden and concrete in material. They can often be referred to as main posts as they are located at corner positions, which are important as they form the ends of fencing sections.
 Post Spikes
 In order for a fence post to be installed with little effort a post spike is inserted into the ground and the post placed on top. The spikes are made from metal and can be embedded directly into the ground, removing the need to dig holes.
 Closeboard Fencing
 Planks of wood of varying dimensions can be arranged either vertically or horizontally to form closeboard fencing. The planks are fitted snugly in place so that nothing can be seen on the other side.
 Feather Edge
 The planks specially designed to easily construct closeboard style fences are called feather edge due to the way their edges are designed to easily fit together. DIYers can purchase individual planks or pre-assembled sections are available for trade use.
 Picket Fence
 Stereotypically seen as the white front fence in many movies and TV shows, picket fencing consists of individual pieces of wood placed with a gap in between each. The planks are called pickets and the exposed end is often shaped in some way to provide a decorative effect.
 Trellis
 Thin, long pieces of wood crisscrossed together in a lattice form the fencing style known as trellis. Its many gaps provide an ideal support for growing a living feature on the wall such as a vine or creeping plant. It is often used in combination with other fencing styles to combine the benefits of each. Another common use for trellis is for internal fences, within the yard to help keep a garden in order.
Gravel Boards
Another product available in concrete as well as wood, gravel boards are used to ensure a fence has a level and strong base to rest on. Thicker layers of gravel board can be used to raise the fence higher or to even out changes in incline without leaving space between the fence and ground.
 Finial 
 Fence posts are often considered rather dull and boring by themselves, particularly if effort has been put into designing the rest of the property. Finials are placed on top of the fence post to give it some additional aesthetic appeal. They came in a wide range of designs with a large degree of creativity involved.
 After studying these terms you should be well on your way to having an understanding of fencing jargon that will help in making a decision about what type to buy. There are of course other terms out there but with these in your vocabulary a visit to the hardware store will no longer be overwhelming.
If you are still confused with which route to go with your fencing and would like some good advice, Paul recommends using a website such as Checked Trades to find a safe reliable tradesman to help advise on your fencing project.