Natural stone is quickly becoming the most highly sought after garden flooring material, with more and more people choosing to incorporate it in their garden designs on a regular basis in the UK and around the world. However, one of the things in which people struggle with when it comes to natural stone is choosing the right one for their individual needs and requirements.
This is where garden designers come in, not only are they able to lay natural stone in the most advantageous ways, but they are also able to advise and guide people into choosing the most appropriate natural stone materials for their gardens and outdoor spaces.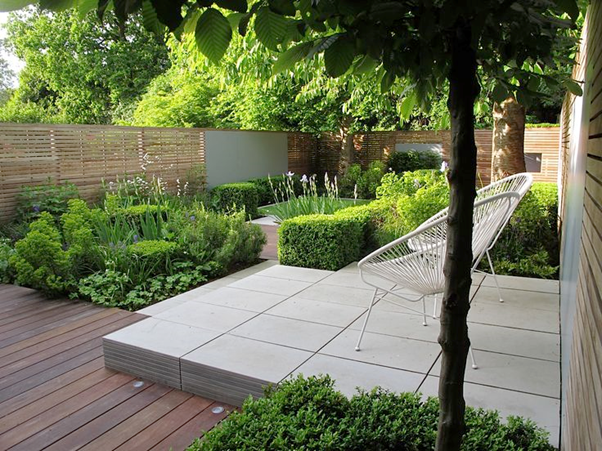 Popular Natural Stone Flooring Options
Marble: marble is a soft natural stone in comparison to granite; however it is still tough enough for all home and garden applications.  Marble is not only popularly used as flooring but also inside homes in kitchens and staircases. Marble is incredibly beautiful and easy to care for and maintain.
Granite: Granite comes in a wide spectrum of colours, often coming with a flecky appearance due to mineral build up which can look like salt and pepper. Granite is incredibly durable, hard to scratch and ever harder to stain. With proper care and maintenance granite can las ta lifetime and therefore it is no wonder it is so popularly used.
Limestone: Limestone again comes in a range of options, including a wide variety of textures. Limestone is also available in a selection of colours however does require maintenance. Anyone buying this stone should ensure that they buy limestone of high qualities so that it can last the maximum amount of time.
Slate: Slate is a popular flooring material all over the world, available in a range of colours including deep greens, blues, greys and purples. Slate is a gorgeous stone and is quite affordable too leading to its intense popularity.
Travertine: The holes in travertine provide it with a sponge like appearance, however don't let this fool you, it is a tough and durable flooring choice. The holes in this natural stone can be left or covered up however if they are left it is vital that if anything is spilt the surface if cleaned up right away.
Sandstone: Sandstone is a stunning natural stone choice in which compromises dense layers of sand for earthy tones. The hardness of this stone varies depending on where the stone is quarried, however when bought in the highest quality it can be tough enough for all home and garden applications.
These are only some of the most wonderful natural stone options too, if you are uncertain as to which natural stone to choose do not hesitate to speak with a reputable and recommended garden designed who will no doubt be delighted to assist you.